Weapon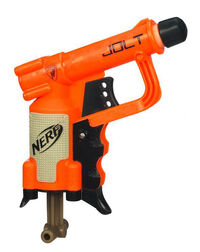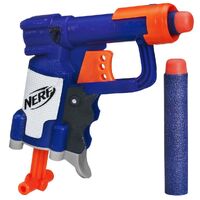 Nerf Nut Shot
Introduced & Produced: 2011
Manufacturer: Nerf
Ammunition Type: Elite Darts
Feed System: 1 Round Exterior Muzzle
Type: Single Shot
Secondary Fire: none
Accessories: none
Appearances: Various GunVsGun Episodes
The NERF Nut Shot (officially known as the Nerf Jolt EX-1) is a single-shot pocket pistol released in 2011 by Nerf.
Characteristics
Edit
The Nut Shot is a small, pocket-sized side-arm. In both stock and modified forms, it is a single-shot 'pistol' which needs to be primed and reloaded after every shot is fired. However, the strength of the Nut Shot lies in its sheer accuracy, being branded by Danny Gun in "Zombie Apocalypse" as "the most accurate gun around", next to the Hammershot. In addition, it is easily concealed which contributes to its value as a stealthy weapon.
The Nut Shot comes in at least two editions that are shown in GunVsGun:
its original orange, black, grey and white colour scheme
its "Elite" blue, orange white and black colour scheme
Appearances
Edit
The Nut Shot is mostly used by Tommy in many GunVsGun episodes, but is occasionally used by his brother, Danny.
A notable appearance of this blaster was in the episode "Nerf NUT SHOT! (Nerf Jolt EX-1)" where it is bestowed its official GunVsGun moniker as the Nerf Nut Shot.
The Nut Shot also stars in the episode "A Nerf Nut Shot War". The Gun Bros. are faced with the challenge of determining who is worthy of eating the apple pie conspicuously placed in the middle of the house. Tommy and Danny engage each other in Jolt warfare, with Tommy emerging victorious by shooting Danny in the nuts, followed by a brutal head shot.
In addition, the Nut Shot also appears in the following GunVsGun episodes (in chronological order):
Shit Nerf Guns Say
Nerf Sharpshooter!
NERF vs NEWB
Jolt EX-1 Vs Strongarm Clash
Nerf War: Chores SUCK