Weapon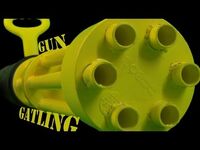 Nerf Gatling Gun
Introduced & Produced: "Nerf Gatling Gun Mod - Target Practice", 2012
Manufacturer: Gun Bros.
Ammunition Type: Unknown; presumably illegally modified Nerf darts
Feed System: Rotating Cylinder
Type: Electrically Driven Rotary Breech
Secondary Fire: none
Accessories: none
Appearances: GunVsGun
The Nerf Gatling Gun (also known as the Nerf Minigun) is a weapon exclusively developed by the Gun brothers.
Characteristics
Edit
The Gatling Gun potentially possesses one of the highest rates of fire in the Gun Bros.' armory, if not Nerf history. The Nerf Gatling Gun was first introduced in the GunVsGun video "Nerf Gatling Gun Mod - Target Practice". " It was then fired by Tommy in the episode, "Nerf War: GATLING GUN!" where Tommy starts shooting up the house with multiple types of Nerf guns, until Danny gets home.
NERF Corporation
Edit
Tommy and Danny allege that the new NERF Rhino Fire ("Nerf RHINO-FIRE Review and Unboxing") "stole" from their Gatling Gun design. Tommy goes as far as to claim that it was "inspired by the size and shape of [Tommy's] cock and balls". GunVsGun's (fictional) dispute with the Nerf Corporation is yet to be fully resolved.